15 Feb

20 Toronto Neighbourhoods Where Townhouses Are Still Affordable
According to various forecasts, Toronto is poised to be the hottest real estate market of 2017 — and it's well on its way to scorching, if January numbers are any indication.
According to the Toronto Real Estate Board, the average home price in the GTA hit $770,745 last month, a 22.3 per cent year-over-year increase. And you'll need almost double that if you aspire to live in a house, with the average detached price now $1,336,640 in the city proper.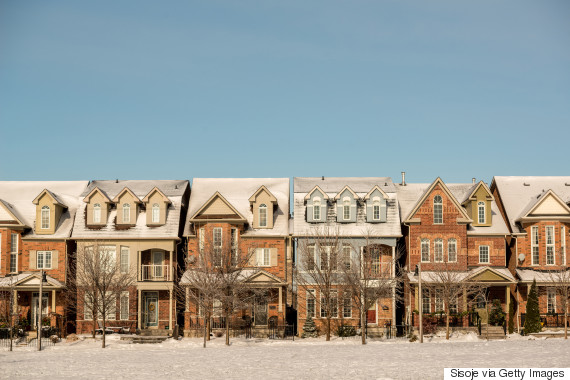 (Photo: Sisoje via Getty Images)
Houses Can Be Hundreds of Thousands of Dollars Out of Reach
Consider this — for an individual with the median Toronto household income of $76,219, the maximum affordability they can hope to achieve is $636,900, and that's assuming they qualify for a five-year variable mortgage at two per cent, pay at least 20 per cent down on their home and can pay it off over a 30-year period. Yet that still leaves the median Torontonian nearly $700,000 short from affording a house.
That doesn't give buyers — especially those in the move-up market — a ton of options. While condo life is becoming more popular with growing families, larger units with more than two bedrooms remain exceedingly rare. That leaves picking up and heading for further-flung affordable markets, but suburb living isn't the bargain it used to be; according to TREB, detached homes in the outer reaches of the GTA have rapidly approached the $1-million mark at an average of $999,102. In fact, a number of Ontario-region real estate markets have recently received a "red" warning from the Canada Mortgage and Housing Corporation due to the price "spillover" affect from Toronto-based buyer demand.
A New Low-Rise Reality
As well, not everyone wants to confine their lifestyle to high-rise living, or take on a lengthy commute. Zoocasa has found for this buyer segment, Toronto townhouses are an appealing low-rise option. With an average price (based on 2016 sold data) of $562,187, they're still firmly within the realm of affordability for many. And, while you may still encounter a bidding war to win one, there's a greater chance you'll walk away unscathed: the average townhome sold for $16,714 over asking last year, compared to the whopping $63,482 for an average detached home.
The Top 20 Most Affordable Toronto Neighbourhoods for Townhouses
To help buyers find townhomes within their budget, Zoocasa has compiled the top 20 Toronto neighbourhoods where you'll get the most bang for your buck.

Taken From: http://www.huffingtonpost.ca/lauren-haw/affordable-toronto-neighbourhoods_b_14682614.html?ncid=engmodushpmg00000003